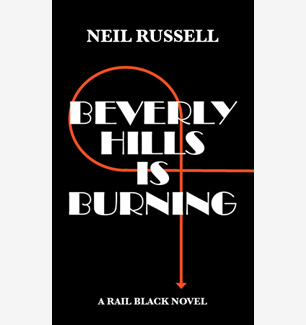 <
"It was just after midnight when the girl in the
blue diamond necklace fell out of the sky."
In Hollywood, an ex-con movie producer, fresh out of San Quentin, is lucky if he can get a valet to take his car at The Ivy. Teddy Chessman got his own studio.

Why? Because Teddy controlled the most important motion picture property to hit town since agents were invented. And attached to this expected critical and financial bonanza is the biggest female action star in the world, Valentine Jones.

Then Teddy got himself murdered. Along with his entire board of directors.

And now, the guy who loaned him the money to buy the joint—Rail Black, a former Delta Force operator with a private fortune of his own, and who tries to stay as far from show business as possible—is forced to take possession of the thing he wants least.

But the bad news doesn't end there. Rail soon discovers his can't-miss screenplay isn't complete, and nobody seems to know if the rest of it even exists.

And the murders are just beginning.

Exploding from ninety years in the past—when gangsters and movie tycoons roamed Hollywood and scratched each other's wallets—Rail is sucked into a quicksand of unsettled scores, duplicity and death, where a couple of billion dollars in boxoffice seems like small change.

From Southern California to New York, Venice, Havana, Mexico and Cyprus, Rail must disentangle the past from the present and come to terms with his feelings for Barrie Fontaine, a long dead woman—and extraordinarily brave pilot—he has never met.

And somewhere, out there, is Matty Aspirins, a hitman on a mission all his own.

Welcome to Beverly Hills is Burning.

There will be no intermission.
"Neil Russell is the king of adventure thrillers… BEVERLY HILLS IS BURNING is a tour-de-force of hot action, cool suspense, and steamy sex. …a once-in-a-lifetime ride with producers, screenwriters, Mafia hitmen, and money. Lots of money. You'll love this book."


—Gayle Lynds
New York Times bestselling author of THE BOOK OF SPIES
"What would happen if an incredibly gifted writer smashed together the best of Bond, Hammer and McGee? Could they create a new category of hero?"

"Turns out Neil Russell is that author. Rail Black is that hero and BEVERLY HILL IS BURNING is that book. Not for the timid or PC crowd, "BURNING" is filled with intense sex, harsh language, graphic violence and a great story interweaving mysteries from mid-1930's Cuba with today's Hollywood."

"Gangsters… Hollywood stars, starlets, sexual predators and producers do things that will make parts of you stand on end…"


—Myles Knapp, Thriller Reviewer
Bay Area News Group
"Neil Russell's BEVERLY HILLS IS BURNING is everything a thriller should be. Former Delta Force operator, Rail Black is a contemporary knight errant, patrolling the seedy boulevards of La-La Land… reminding me of John D. MacDonald's iconic Travis McGee.

"Description and dialogue are edged weapons, employed expertly… acerbic wit and indelible metaphors paint a mordant portrait of L.A. corruption as only a veteran Hollywood insider could."

"Warning: This is a tough tale about bad people who use gutter language and do ugly things… You shouldn't wait a minute longer to dive into the novels."


—Robert Bidinotto
Bestselling author of HUNTER: A Thriller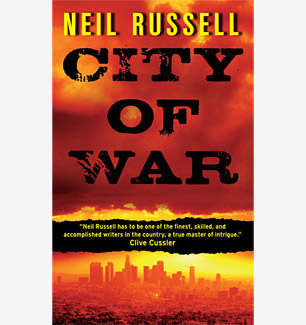 "A naked woman running full tilt through ankle-deep water
in a freeway carpool lane isn't something you see every day."
His enemies are the most dangerous people in the world…

So are his friends.

The sole heir to a media empire, Rail Black is larger than life, richer than almost anyone and living in opulent seclusion in Beverly Hills. His "curse" is a need for excitement coupled with an oversized sense of justice, which impelled him into Delta Force. Now he helps people without options—and billionaires play by different rules.

Caught in gridlock on the world's busiest freeway, Rail comes to the rescue of a naked woman escaping from a van. But Kimberly York is no ordinary victim, and Rail has invited violence into his life . . . again—as a sudden, shocking murder pulls him into a decades-old international conspiracy of greed, rare treasures, and human depravity.

But no matter how powerful and well-armed, his adversaries can't escape Rail's wrath as he races into the darkness surrounding the American government's most astonishing secret: the City of War.
"Neil Russell has to be one of the finest skilled and accomplished writers in the country… City of War is as fascinating and spellbinding as any mystery you'll ever read."


—Clive Cussler
"The summer blockbuster has arrived early."


—The Glenn Beck Show
"This is a must read for anyone who likes a smart, sexy thriller."


—BestsellersWorld.com
"Rail Black towers in all facets of his Beverly Hills lifestyle (yeah, he's a big guy too). Black is packed with resources, connections, and a willingness to seek revenge (or justice based on your perspective) at a near suicidal commitment."


—GearPatrol.com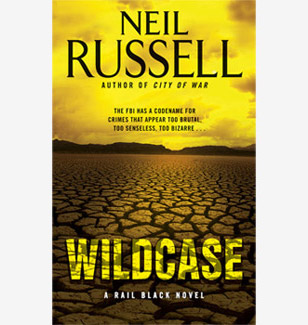 "Just coming out of the Cajon Pass, a goddamn stop sign
came hurtling out of the darkness and whanged across my hood."
In Victorville, CA, a sleepy town halfway between the glamour of Hollywood and the grit of Sin City, an LAPD detective turned novelist and his wife are brutally murdered. The couple were close friends of Rail Black, a Beverly Hills billionaire and former member of Delta Force, and when Rail gets contradictory answers about the investigation from an assistant chief, he gets involved.

Very shortly, Rail finds himself braced by Francesca Huston, head of the FBI's Wildcase Unit—the codename given to crimes so random and bizarre they defy classification. Mystified as to why a cop-killing has attracted the Feds, Rail begins digging deeper.

Joined by Birdsong "Birdy" Nash, whom he rescues from a violent meth-head, Rail suddenly finds himself on a deadly pursuit that runs from the secret mission of a WWII aircraft carrier, through the Chinatowns of San Francisco and Las Vegas, to Hong Kong, and finally to the South Pacific islands of Tonga and New Guinea.

But while Rail's Delta Force training might help him peel back the layers of history and survive several attempts on his life, nothing has prepared him for what he finds at the core.
"Russell has crafted an opening that is one of the most harrowing I have ever read. After that, you're hooked… This is a man's book… but it's also one the ladies will like, especially if they know the difference between a man and a boy…. If you like Nelson [DeMille], you're going to like Neil. You can trust me on this."


—Homer Hickam
Bestselling Author of ROCKET BOYS
"Two gruesome murders, a billionaire… the FBI, Chinese, jade tigers, and an historical tale of the hunting and transportation of live tigers, all before page fifty… This one . . . well . . . it'll drive you wild."


—Suspense Magazine
Stephen L. Brayton, Author of BETA
"Rail Black is called in to investigate the torture and murder of a retired cop and his wife. The murder was of such brutality and with no apparent motive that the FBI has labeled it a "wildcase." Rail uses his considerable skills (and wealth) to uncover a very intricate plot involving the smuggling of disabled and unwanted children out of China…"


—REGINA M. ANGELI
Books Writer, Iron Mountain Daily News
"Wildcase… is a thriller with social commentary.... from hunger, animals hunted to extinction… to entire generations murdered or sold into slavery…"

"Russell introduces us to a group of characters who did what was right during World War II and saw it spiral wildly out of control…tight writing, great story, and pacing that keep you guessing… It kept me turning pages… wondering how everything would come together… And it does come together in a spectacular ending. I can hardly wait to see what's next from Russell!"


—Fitz
BlogCritics.com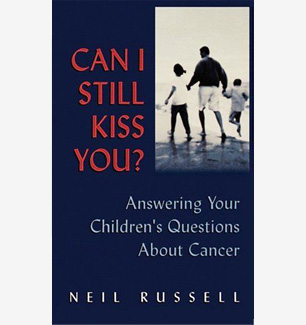 NON-FICTION
The prospect of sitting down with a child in an attempt to make sense out of a disease that we barely understand ourselves is daunting. Russell provides a chapter-by-chapter series of questions and answers dealing with diagnosis, surgery, radiation and chemotherapy during and after treatment. Through his own experience and research he presents clear, straightforward questions followed by answers that are understandable to children. Additional space encourages parents to add personal responses to children and children to write back expressing fears, concerns or encouragement-in essence, a "message board" for sharing emotions that are difficult to articulate. Some of the questions he addresses are: What is cancer?, When I get older will I get cancer because you did?, and Can I Still Kiss You?